Whether you're an experienced traveler or exploring your first continent, there are plenty of things to see and do in Plettenberg Bay. One such activity that offers visitors the opportunity for quiet adventure with nature is whale watching!
When dozens of tons make their way to the surface and then turn gracefully like acrobats in air, it's hard not be amazed by this sight. The whales enjoy themselves just swimming around looking at all these people who have come so far for them; they dive back into deep blue with relish after performing one last show for those lucky travelers!
The whale watch experience
in Plettenberg Bay is one of the most
unique and amazing things
you'll ever do.
The whales of the South African coast are a wonder to behold. They come from their winter home in Antarctica and migrate north, where it's much warmer! There you can find them playing around near boat tours or getting up close with marine mammals while they're calf-forming off shore colonies like in Plettenberg Bay.

If your travels bring you here too soon after calving time has passed then don't worry - these wonderful creatures have been known not just go back into deep water once motherhood ends but rather stay active through early summer before heading deeper still again for another season of feeding baby cows
If you're a fan of dolphins, seals and penguins then Plettenberg Bay has something special for your conscience. We show when the best time is to go on board with our easy-to follow guide that will tell what type or whale watching experience one can have in this area!
Time to book your dream holiday in Plettenberg Bay at La Vista Lodge!


"The perfect destination for whale watching" 
Plettenberg Bay - Garden Route
The Garden Route in South Africa is a place worth visiting for its natural beauty. It was named after the original Garden of Eden, where all life came from according to scripture in Genesis chapter two.
The Robberg Reserve near Plettenberg Bay offers numerous attractions such as hikes and animalwatching opportunities - organizers recommend this destination if you're looking forward seeing some wildlife!

The area's most famous attraction might be whale watching during seasonal periods: Plett stands out because whales come here every and give birth.
High on the Ridge on Robberg, where the sun warms the shallow waters, chances are you'll catch a glimpse of the giant marine mammals. The ideal starting point for exploring the paradisiacal Plettenberg Bay is the "La Vista Lodge".

Anyone who has ever vacationed here will have a lifelong love for the fascinating country of South Africa and especially for Plettenberg Bay.
When is the best time for whale watching?
Whales are migratory animals - meaning they travel to different places depending on the season. Whale watching season in Plettenberg Bay is year-round, so you should choose your travel time depending on the species you want to see and the weather you prefer.

The southern right whale, for example, migrates from the Antarctic sea to the warmer waters off South Africa in early June. In early November, the humpback whales and their calves arrive at the Cape. With a bit of luck and the right weather, these gigantic whales can be seen until May and June.
Which whales can you see?
Because of their size alone, whales are among the most fascinating animals on earth.

So let's take a look at the variety of whales that can be spotted on sightings in the so-called Plett, the Plettenberg Bay region:
Humpback Whales
The humpback whale is particularly popular on whale watching tours because it often jumps far out of the water. The humpback whales rotate around their own axis (breaching) and then let their massive bodies, which can weigh up to 30 tons, fall back into the water. The reason for this acrobatics is not known. Perhaps it is used to eliminate parasites or has a social meaning.

The famous "lobtailing" is also one of the most popular sightings when whale watching: The humpback whale stretches its tail fin out of the water and then hits it with a jerk on the water surface. Adult humpback whales reach lengths of up to 16 meters with pectoral fins nearly five meters long.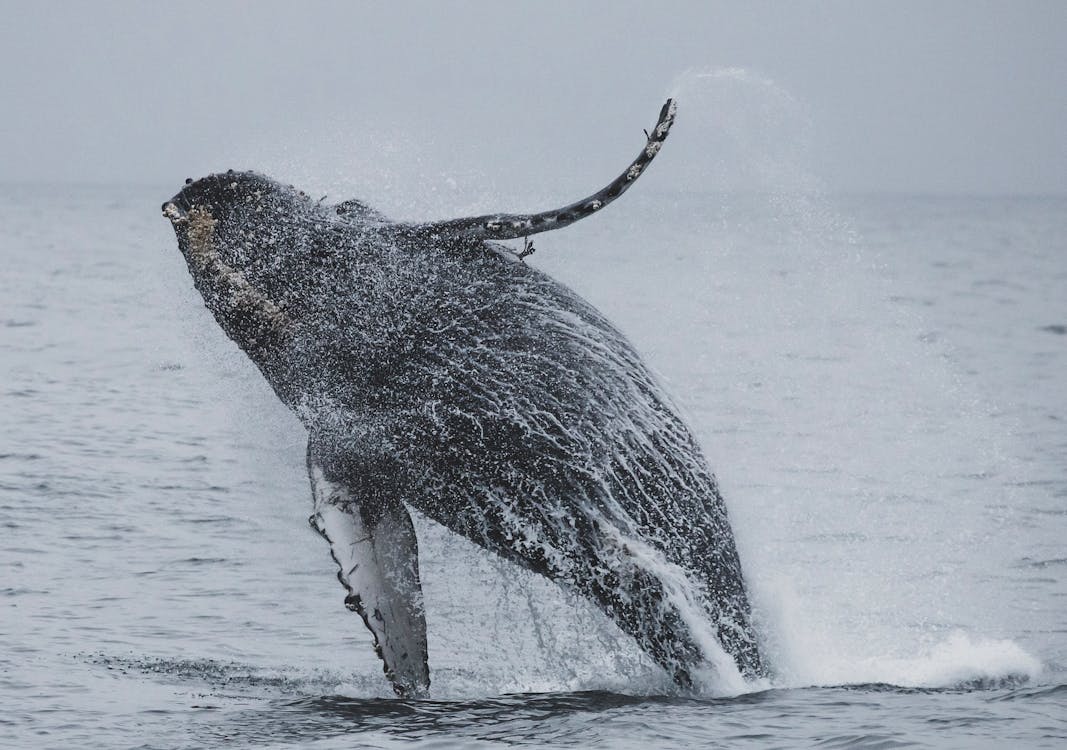 Southern Right Whales
The southern right whales can be observed very well from land. The giant whale, also known as the southern right whale, is up to 18.5 meters long and weighs 80 tons. It moves very slowly and stays on the water surface for a relatively long time.

Right whales can be easily distinguished from other whales by their conspicuous skin growths. "Breaching" and "lobtailing" are also part of the behavioral repertoire of right whales.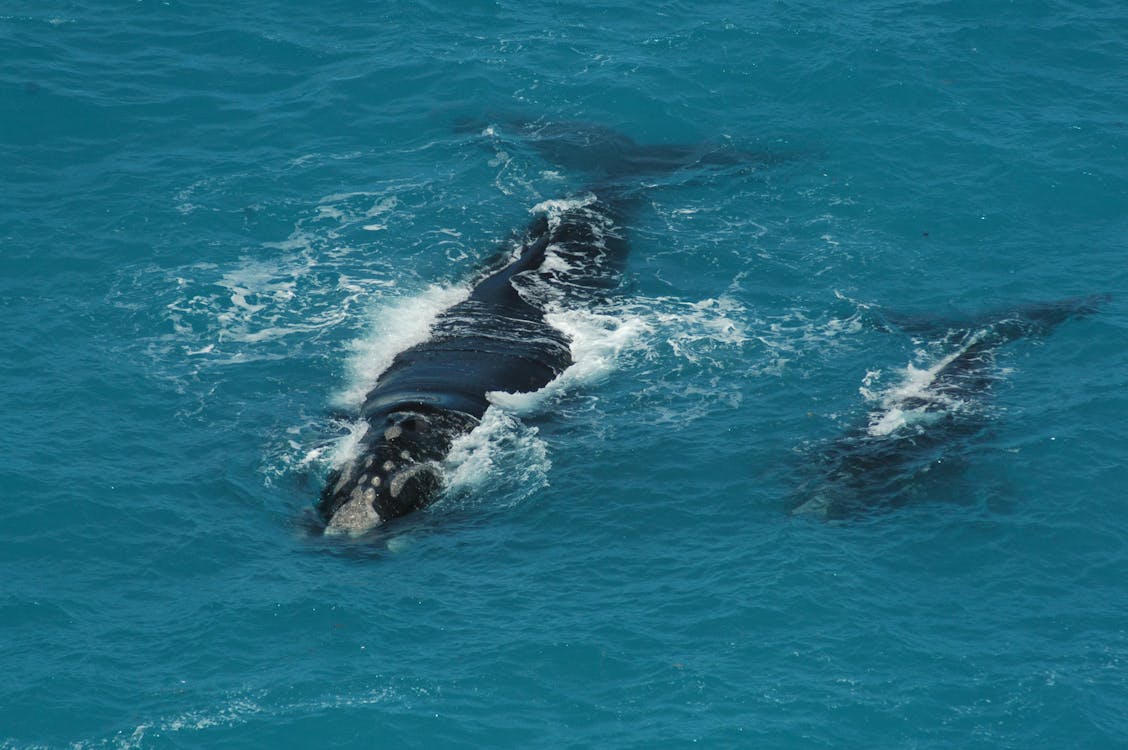 Bryde's Whales
The Bryde's whales resident on the Plett are considered to be quite shy. The best way to see the gentle whale is with a guide on a boat tour. They feel more comfortable in the open sea and don't like coming to the shoreline.

Bryde's whales are usually found alone or in pairs. Occasionally larger groups are observed eating together. The whale can swim up to 24 km/h and often changes direction suddenly, both on the surface and under water.

The whales spend most of the day in areas up to 15 meters below the water surface.
Sei Whales
Sei whales are grayish-blue to dark gray to brownish in color. The dorsal fin is sickle-shaped. The female sei whales are larger than their male counterparts and can grow up to 19.5 meters long.

Sei whales are very playful. Sometimes they jump out of the water at a low angle and land on their stomachs. They are also considered to be particularly fast swimmers.

Sei whales are usually found in small groups. If there is a large supply of food, significantly more whales can be spotted together in Plettenberg Bay.
Orca
Orcas are considered to be the smartest and most dangerous hunters in the seas: killer whales hunt dolphins and chase their victims to the point of exhaustion. They don't even stop at a big whale. Sea lions, penguins and even sharks are also part of their menu. With a bit of luck, orcas, also known as killer whales or killer whales, can also be observed off the coast of South Africa.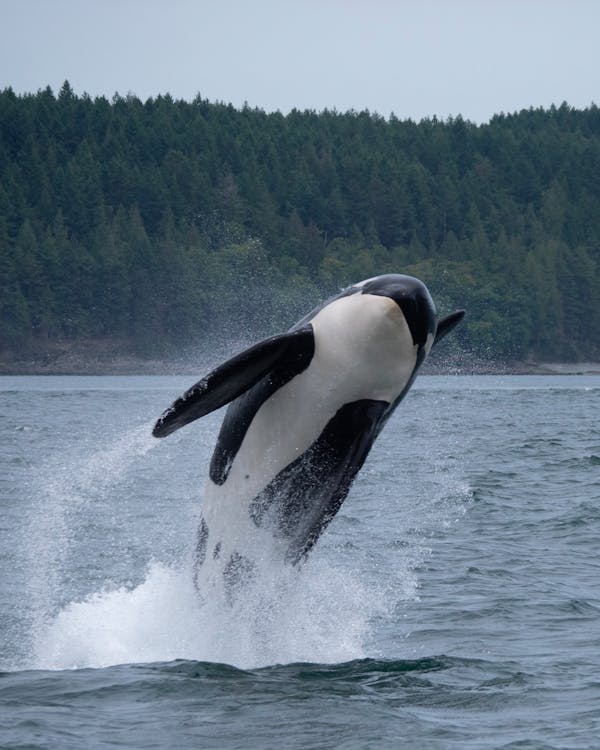 Spot dolphins, seals & penguins in Plettenberg Bay
Spot dolphins, seals & penguins in Plettenberg Bay

But not only the gigantic marine mammals are part of a successful holiday in South Africa: Dolphins, seals and penguins can also be spotted on hikes and boat tours. Many dolphins frolic off the coast of South Africa all year round.

It is particularly refreshing for the tourists when the playful marine mammals swim around the boat: the highly intelligent animals really seem to want to make contact with humans. There are hundreds of seals and penguins to be seen on tours past the beaches of the Robberg Peninsula, a peninsula.
This is how you can watch whales up close in Plettenberg Bay
The stretch of beach at Plettenberg Bay on the Garden Route serves as an ideal starting point for a whale watching tour. But with which whale watching providers is it best to go on one of the boat tours offered? It is important to always choose a Close Encounter Whale Watching. This means that the providers hold a license that allows them to drive up to 50 meters from the whales. Boats that do not have this license are not allowed to come within 300 meters of the Southern Right Whales.
Buchen Sie jetzt Ihren Traumurlaub in der Plettenberg Bay!
Ocean Odyssey
The provider Ocean Odyssey offers a Close Encounter Whale Watching Tour: It lasts around two hours and costs around 50 euros per person. If you prefer to watch dolphins, seals and penguins, you should book the Marine Eco Tour: Ocean Odyssey offers the one and a half hour tour with a guide for around 40 euros.


Spring Tide
Sailing fans should shortlist Springtide Sailing Cruise: The sailing trips can be booked as Short Sail (approx. 1.5 hours) or Day Sail (approx. 4.5 hours). Like the other providers mentioned here, Springtide has good reviews.


Offshore Adventures
Offshore Adventures is a marine tour company offering whale watching tours. Unlike many of its competitors, the company does not use any technical devices to locate the whales. The well-trained, local guides know where to go and inform each other. This ensures that the whales are disturbed as little as possible in their natural environment.

La Vista Lodge takes care of everything

Spoiled for choice: The hotel "La Vista Lodge" would be happy to organize whale watching in Plettenberg Bay for you. As experts in the Garden Route, the management has the necessary information to pre-select the best destinations for your dream vacation.

Book your dream vacation at La Vista Lodge in Plettenberg Bay now!